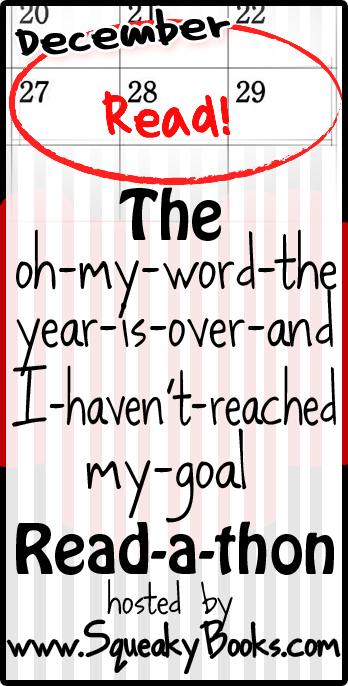 Hello, readers!
I am participating yet again in Squeaky Books' annual year-end readathon: the Oh-My-Word-The-Year-Is-Over-And-I-Haven't-Reached-My-Goal Readathon. Last year I actually had reached my goal at this time so I was causally readathoning, but this year I have been speeding through books for the last few days to try to reach my goal of 200 books by January 1st.
Although I've been readathoning on my own for a few days, at the official start of this readathon, I have 6 books to go in order to reach my goal, and 5 days in which to read. I'm going to be crazy busy and/or out of town until New Year's Eve, but if I can time it right, I just might be able to make this happen.
Because it is going to be such a close shot to finish enough books in time for New Year's, I am extending the readathon an extra two days, until December 31.
Reading List:
Seraphina by Rachel Hartman
Iron Hearted Violet by Kelly Barnhill
Renegade Magic by Stephanie Burgis

(Read 26 Dec)

Stargirl by Jerry Spinelli

(Read 26 Dec)

Instead of Three Wishes by Megan Whalen Turner

(Read 27 Dec)

Book of Enchantments by Patricia C. Wrede

(Read 30-31 Dec)

Tales from the Brothers Grimm and Sisters Weird by Vivian Vande Velde
Fathomless by Jackson Pearce

(Read 28-29 Dec)
I tried to choose a mix of long and short books, and included three short story anthologies because they're both fun and quick. I am especially looking forward to Seraphina, Iron Hearted Violet, and Fathomless.
DAY ONE
december 27
Yesterday I read Renegade Magic, which was fun and light and exactly as I expected it to be. I really liked it but preferred Kat, Incorrigible. I still would like to see what comes next for Kat. Then I read Stargirl which was amazing and totally surprised me; I had read it on a friend's recommendation, which next to no idea what I was getting myself into. I absolutely loved it.
Today I could barely keep my eyes open long enough to read, but managed to finish Instead of Three Wishes, which I'd forgotten how much I liked. I really enjoyed it and it certainly made me excited to reread some of MWT's other works. I'll have to revisit Gen next year.
DAY TWO
december 28
I meant to read a lot more than I did today. I had time to read during the day but did not have a book with me until the evening, when I read the first 200 pages of Fathomless. I wanted to read much more, but unfortunately didn't have the time. Hopefully tomorrow will be better.
DAY THREE
december 29
Today was a really good reading day. I finished Fathomless, which ended up being very exciting, and also started two more books. I visited a bookstore and found a fantastic gift for my English teacher: The Annotated Alice. This particular teacher is my favorite English teacher I've ever had, and he taught a semester of Through the Looking Glass two years ago (which I took, and loved) so I thought he would enjoy this annotated edition. And I'm hoping he won't mind if I take a peek at it first, since the annotations are actually quite interesting. I've read Alice's Adventures in Wonderland and Through the Looking Glass many times (I have a well-loved copy on my shelves) and the notes in this addition add a whole new layer to a story I already love. I finished Alice in Wonderland tonight, and will read Through the Looking Glass tomorrow. I also read the first two stories in Book of Enchantments, both of which I enjoyed quite a bit. As with Instead of Three Wishes, I'd forgotten how much I liked these stories.
DAY FOUR
december 30
Today I visited the bookstore where I bought my beloved copy of Howl's Moving Castle, and found a copy of
Robot Dreams
, a graphic novel that I read nearly two years ago and was never able to find again. I reread it in the store along with Sarah Varon's new book Bake Sale, which brings me
so close
to finishing my 200-book goal. I also read a few more chapters in The Annotated Alice and a bit in Book of Enchantments, but overall did not read much. Tomorrow I am going to finish my challenge, and it will be New Year's Eve Day!
DAY FIVE
december 31
Today I finished Book of Enchantments and The Annotated Alice, and finished my challenge. Happy New Year!
Happy reading!