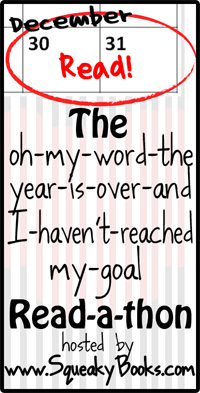 The readathon has officially begun! Somehow, life tends to get in the way of reading on the specific dates that readathons are scheduled for, but I'll at least keep a book on hand throughout the next two days.
I will probably not be updating my progress much, but I will have a final tally up on January 1st.
What I want to finish:
I have several books that I have gotten about halfway through and that I'd like to finish in the next day or so, or at least make significant progress on:
Inheritance, by Christopher Paolini
The Coming of the Dragon, by Rebecca Barnhouse
Tales of Grimm and Andersen, by The Brothers Grimm and Hans Christian Andersen
I don't have many goals beyond that, as I can tell those three will be quite a bit of reading on their own, but I have a ton of books stacked up by my bed (my regular TBR shelf and the temporarily commandeered "helper shelf" are both full and have additional books stacked on top of them) that I would love to begin, including but not limited to:
Shatter Me, by Tareh Mafi
The Princess Curse, by Merrie Haskell
Peter Nimble and His Fantastic Eyes, by Jonathan Auxier
Daughter of Smoke and Bone, by Laini Taylor
Liesl and Po, by Lauren Oliver
Well Witched, by Frances Hardinge
Spindle's End, by Robin McKinley
Wither, by Lauren DeStephano
Birthmarked, by Caragh O'Brien
And as if those and several large handfuls more were not enough (because you can never have too much with books), I have a few by my bed that I've been itching to reread for a while now:
Enna Burning, by Shannon Hale
River Secrets, by Shannon Hale
Forest Born, by Shannon Hale
Dragon Flight, by Jessica Day George
Dragon Spear, by Jessica Day George
East, by Edith Pattou
I have no intention of getting through these lists, but they're much of my selection. And the books that I don't get to now will be the one's I'll be reading in the next few weeks, or more likely, months.
Are you participating in the Oh-My-Word... Readathon? Have you read any of the books above? What should I read first? Let me know in the comments!