Hello, hello!
I'm back
from my unexpected blogging break, and fully recharged. I hope you all had a wonderful (insert holiday of your choice here), and are enjoying the last few days of 2011.
I've had a great few weeks in terms of reading
. Since I went on break, some highlights were: The Circle Opens (series) & The Will of the Empress by Tamora Pierce, Inheritance by Christopher Paolini (still in the middle of this one, but I like it so far!), So Yesterday by Scott Westerfeld, and Legend by Marie Lu. All were great. I also got a bunch of books as gifts (and bought a few for myself) that I am
so
excited about and cannot wait to begin.
Thank you
, bookish gift-givers!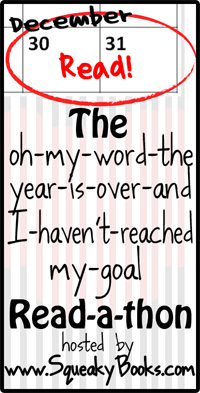 In a few days, I will be participating in the
Squeaky-Books
-hosted
oh-my-word-the-year-is-over-and-I-haven't-reached-my-goal read-a-thon
, which takes place on December 30th and 31st. I have actually met my goal of 200 books in 2011 (yay!!) but I'd love to get a few more in before the year ends. I have huge stack of
library books
that I can't wait to open up, not to mention all the
wonderful books I received
in the past few weeks. The picture to the left links to Squeaky Books for more information and sign-ups.
One last thing: I saw this video today on
Victoria Schwab
's (amazing author of The Near Witch) blog, and I'd love to share it. Videos like this make my day.
Hurray for YA authors doing fun things!
Happy post-holidays relaxing!